A 100% Natural additive approved for all species
Eating clay is a natural way for animals to maintain their own well-being. Natural intakes of minerals and trace elements improve their digestion.
The Velay Green Clay is a 100% natural animal feed additive, suitable for all species: poultry, cattle, swine, sheep, equine, fishes … guaranteed quartz free, asbestos free, authorized by the European regulations and FCA certified (Feed Chain Alliance) for animal feed.
Additive authorization number : 1g599, EU regulation N°2019/10, for all animal species (Click here to download)

The Velay Green Clay is :
An effective Technological Additive :
Anti caking agent : the Velay Green Clay flowability is excellent and meets Premix requirements, with no risk of silo vault compared to sepiolites or bentonites clays
Binding agent : improves the pellets hardness thanks to its high agglomeration capacity
An Active Ingredient with many scientifically proven properties:
Completely safe for all animal feed species, whatever the dosage is (from 2 to 10% – In vivo trials carried out in a Spanish research institute)
Absorbs mycotoxins in the gastrointestinal zone (aflatoxin B1 & fumonisins B1 and B2) , thus preventing absorption into blood and organs
Significantly reduces aflatoxin M1 in cow's milk by 17% (In vivo trials carried out in Spanish research institute)
Efficiently decreases fumonisins B1 and B2 in faeces and urine (In vivo trials carried out in a Spanish research institute on pigs and poultry)
Sooth during acute diarrhea phase and promotes a return to a normal transit
The Velay Green Clay : a quality and safety guarantee for animal feed !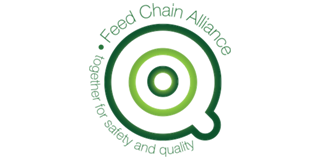 +
FCA certification for the animal feed market: a guarantee of quality and safety of animal feed.