Since millennia, clay calms down, protects, heals, purifies, and embellishes.
This "magical earth" with inestimable virtues and properties is doing miracles on daily pains.
Natural and easy to use, clay's benefits are at everyone's reach.
Scientific proven benefits of the clay
Clay is a clever mineral: it identifies the origin of the pain, concentrates itself on and eliminates it.
Our R&D department is periodically asking well-known European laboratories to launch in vitro and ex vivo studies to develop and diversify the different possible usages of the Velay Green Clay.
Based on scientific studies' results the Velay Green clay:
Stimulates the immune defenses of the body and regenerates cells.
Improves the secretion of the collagen type I (anti-ageing).
Fights against IL1beta, IL6 and TNF alpha inflammations.
Promotes wounds' healing.
Protects the epiderma and the dermis against negative effects of the urban pollution.
Absorbs sebum excess after 10 minutes of application.
Adsorbs bad smells: almost zero smell after 1h.
In the pure state, clay can be used for different applications depending on expected benefits:
poultices, compressed gas, mouthwashes, clay milk, facial masks, and powdering.
An offer adapted to the market
The Velay Green Clay is unique in its composition, which differentiates it from other green clays on the market. Indeed, green clays are most often composed mainly of either Montmorillonite, Illite or Kaolinite. Sometimes, a significant amount of quartz can be found.
The Velay Green Clay is a natural blend of these three types of clay, without any quartz. Thus, in addition to being unique and high quality, the Velay Green Clay is suitable for many applications.
The Velay Green Clay is extremely pure.
Naturally rich in minerals and trace elements, the Velay Green Clay is suitable for all skin types. In regular use, it has a very good rebalancing effect, stimulates the natural defenses, purifies, gently cleanses, and restores radiance to the face.
The Velay Green Clay is 100% natural but cannot receive the "ORGANIC" label as a mineral. However, it is regularly analyzed (products controled by our internal laboratory and in collaboration with accredited laboratories, heavy metals, PBC, dioxins, silica.)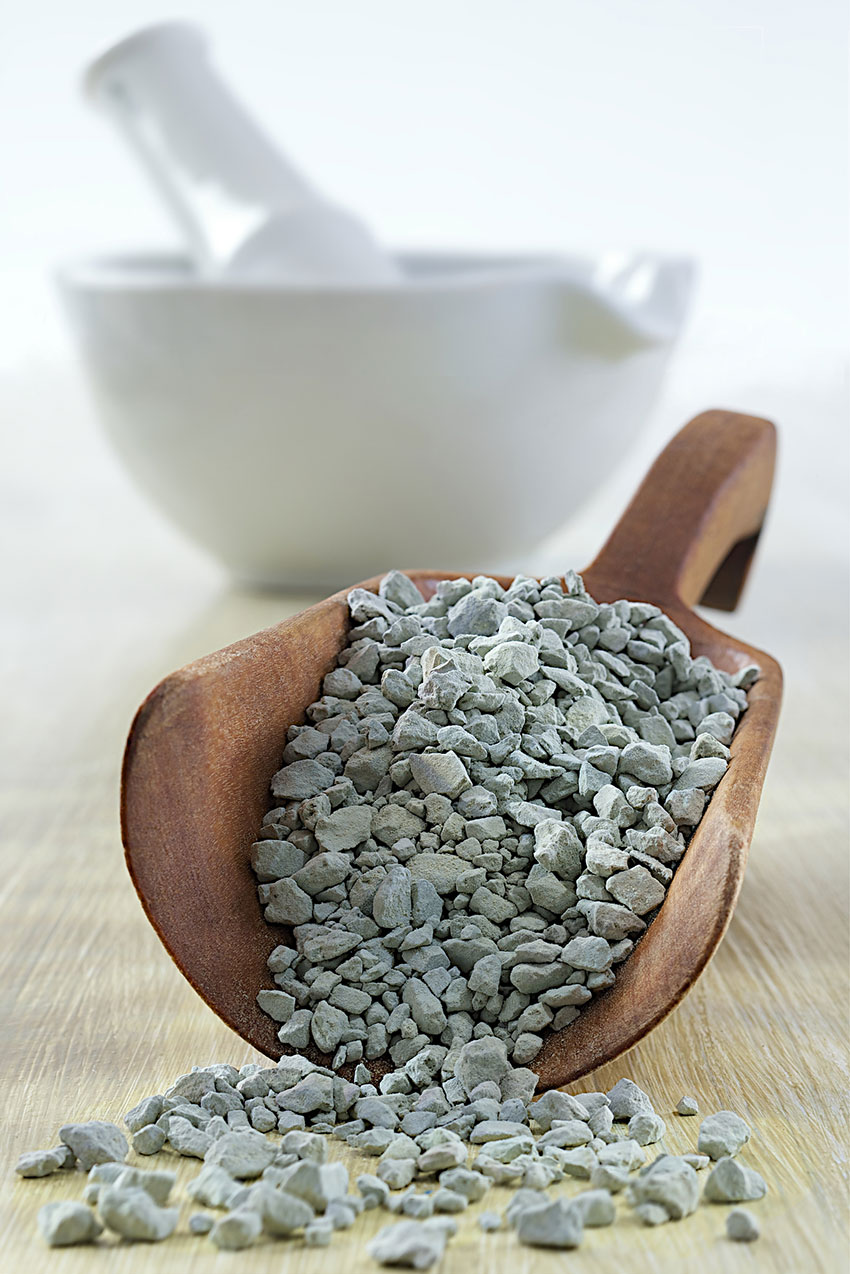 From clays with small grain sizes, our customers can develop excellent revitalizing cosmetics products for the skin: masks, scrubs, toothpastes, shampoos.
Argile du Velay is providing a full range of clays extracted in quarries located in France or in the EU.
CosGREEN™: very pure green clay, with no quartz. Choosing this clay will improve detoxifying (sebum reduction), cell's regeneration, healing and the anti-aging effects of the skin. Two qualities are available : surfine and ultra-ventilated.
CosBLUE™: a blue-green clay, for oxygenating and detoxifying actions. It illuminates your complexion.
CosKAO™: a pure white kaolin clay. Recommended for dry and sensitive skins.
CosRED™: is rich in iron. In face masks, its color will illuminate the skin especially dark skins.
CosYELLOW™: absorbs sebum excess and illuminates the complexion of Asian skins.
Ghassoul : volcanic clay selected and imported from Morocco. Key element of the traditional hammam rituals. The Ghassoul is a gentle and purifying clay. INCI : Moroccan Lava Clay
BlackMineral™: natural anthracite mineral, can be used as an alternative to the charcoal with its trendy color.
CosPINKAO™: a well-balanced and delicate blend of white kaolin and red illite clays, perfect for restoring the radiance of fragile skins. Apply in beauty mask : it will absorb impurities and gently cleanse the most sensitive skins. Applied as a blush it will give a fresh pinkish complexion to the skin.
Argile du Velay is proud to present its new treasure "CosJADE", nestled in the heart of Auvergne volcanoes!
CosJADE™: a green illite clay. This unique clay with a high purity will sublimate your masks and cosmetic products by its intense color.
These clays are offered in standard granulometric curves or adapted according to your needs.
Our key asset:
Thanks to its 40 years of expertise in this field, our R&D department can advise you on how to use these clays in formula and to elaborate cosmetics' products.