Known for its virtues for the skin, the Velay Green clay applied to the hair is beneficial for the hair fiber as well as the scalp which it maintains and balances. Highly appreciated by fans of so-called "slow" hair washes and natural cosmetic products, it is an essential beauty part of hair routines.
Why choosing a clay shampoo ?
The green clay shampoo is full of benefits. The Velay Green Clay is used on the hair and on the scalp to harmonize the secretion of sebum by absorbing it. A particularly interesting role since the sebum (organic physiological liquid secreted by the sebaceous glands located under the skin tissue of the scalp) tends to suffocate the roots. As a result, the regrowth is less qualitative. The causes of this excessive secretion depend on each person. This balancing property is very useful for oily hair.
Also, the Velay Green Clay applied on the hair and on the scalp is a soothing care that protects the hair fiber. The hair is supple and the hair is vigorous. In mask form, this application is useful for all hair. Use it sparingly in case of dry hair to not make it drier.
In ready-to-use paste or in powder, clay for hair must be chosen with care in order to benefit from the properties of a qualitative, natural and pure clay.
How to make a clay shampoo ?
It is possible to make your own clay cleansing shampoo yourself. For this, take two large tablespoons of green clay or rhassoul (oily hair) or white kaolin (dry hair). Add 3 drops of lavender or rosewood essential oil. Stir slowly with a spatula to get opaque water. In your shower, gradually apply the mixture and massage your hair slowly. Leave on for two minutes then rinse. Don't be surprised if there is no foam! Clay dry shampoos are also popular. Green clay will also be recommended. Apply it with a brush on dry hair at the roots and parting. Massage thoroughly in all directions and, using a comb, remove all the clay from your hair. The shampoo is finished and the hair is more voluminous and lighter.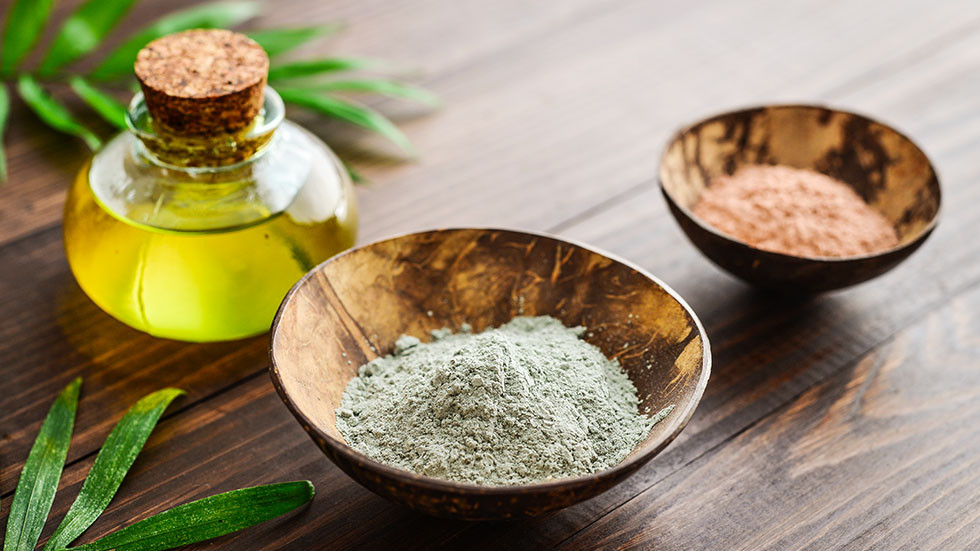 If your hair is oily, choose a Velay Green Clay shampoo for its detox effect. In a bowl, pour 25cl of hot water. Add two tablespoons of Velay Green Clay and three drops of rosemary essential oil. Stir the preparation well to get a rather liquid paste.
If your hair is dry, choose white kaolin clay. Instead of rosemary essential oil, add a teaspoon of vegetable glycerin. The paste will be more liquid, which is completely normal.
Establish a correct diagnosis of your hair in order to choose the clay that suits you and benefit from all its advantages.